Screenshots: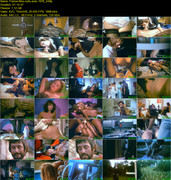 Almost the first film directed by Didier Philippe-Gerard, shot by him as a parody of "The Big Grub" (remember the film about how four men, one, I remember exactly, played by Marcello Mastroianni, decided to eat themselves to suicide?) So here the main characters decided get lost to death.
The film begins with an episode in which one of the heroines, Maud (Trixie Heinen), in a mourning outfit, visits the graves of three girls to talk with them, and polish her shmonka, at the request and to the delight of these same girls. After that, the plot is followed by memories of the time when they were still alive, a classic of the genre. First, the girls, after a sexual fiasco, try to cut themselves, but unsuccessfully. Medicine in the country works like clockwork, the girls are saved, pumped out, are in the hospital. Their older friend Maud arrives there and holds an impassioned speech in front of them: "Girls, my dears, do you want to fuck yourself? Yes, for God's sake. bang and bang." The girls, of course, agree and Maud takes them to his house, in which everything, from the handles of the front doors, is made in the form of members. Members are many and different, for every taste and color. And the menu in this house is exclusively eggs and vaginas, and the icing on the cake is the factotum, he is Arnold's assistant, who, in his youth, was struck by lightning while jerking off, as a result of which he was speechless, but the penis was fixed in the eternal boner (by the way, a small retreat, if you put a member in the socket, will it stand the same way?
And now four cool young girls live in this house, indulge each other and themselves, using everything at hand, including some good fellows who have come in somehow, conducting a survey. As a result, one of the girls, Alice (Veronique Monet), after a passionate intercourse with these guys, decided that everything, the time had come. She went out into the courtyard, there she went into one of the buildings stuffed with dynamite, stuck one of the charges into her slot and set it on fire. Boom, bang-bang, and there are three of them left.
The next was Penelope (Nadja Mons), who gave up and wanted to go to America with her ex-boyfriend and producer, forgetting, but simply swindling all pacts and agreements. But the girls decided that this was not possible, it was not like a boy, the first word was more expensive than the second, and therefore such a disgrace would not happen. And while Penelope, having gone upstairs, put on makeup and put on make-up, they casually got drunk and hyped the former Penelope dude for hot sex, during which the guy relaxed. And in vain, oh, how in vain. The insidious Maud, armed with a huge strap-on, quietly crept up behind him and, while he was sticking his penis into Charlene, treacherously drove this strap-on into his back between the rolls up to the very hat, opened the dude into a light one, like a tin can, like a bottle of lager with twist. Penelope, having finished with makeup, went down to her boyfriend and saw what was happening there, she just went crazy. Maddened by what she saw, she went wherever her eyes looked, away from this riot of girlish fantasies. Pointing, he is also the guiding finger of fate led our Penelope to a landfill, where a gang of scavengers kept a bump. These garbage bandits in uniform quickly figured out what was what and without delay, they immediately painted the poor girl at once for everyone, after which Penelope safely gave up the ends, and God's soul. And there are two left.
The third girl, Charlene (Dawn Cumming), also at some point decided to jump off, but Maud, without further ado, simply gave her to her factotum Arnold Standing, who stupidly sang the poor girl to death. That's it, Maud was left alone. And she came to them in the cemetery, and asked them for permission to join them. And the girls answered her: "Yes, it's not necessary, Maud, it's better to bring us new ones" And Maud leaves.
And in the finale, we are shown the old woman Maud, who again comes to the cemetery, but she no longer has the strength to poke around, and her hands and the prank are not the same. And again she gets into her Rolls-Royce, and Arnold Torchok-Stoyachok, who does not grow old, is driving, and they leave, and the operator's camera panning shows us a cemetery field, which is simply strewn with crosses. fine.
Genre : Vintage, Classic, European, Feature, Blowjob, hairy pussy, Cumshot, DVD Rips
Country: France
Name : Dawn Cumming, Jocelyne Clairis, Nadja Mons, Trixie Heinen, Veronique Monet, Brendan Reed, Jacques Conti, Carmelo Petix, Richard Lemieuvre, Jean-Louis Vattier, Daniel Trabert, Cyril Val, Charlie Schreiner, Jacques Insermini, Jacques Gatteau
Year of release : 1976
File Type: MKV
Video : AVC, 704x448, 25.000 FPS, 1898 kb/s
Audio : AAC LC , 48.0 kHz, 2 channels, 124 kb/s
Duration : 01:14:37
File Size : 1.12 GB
-----------------------------------------------------